Listening Perception Assessment
HOW DO OTHER PEOPLE BELIEVE I LISTEN?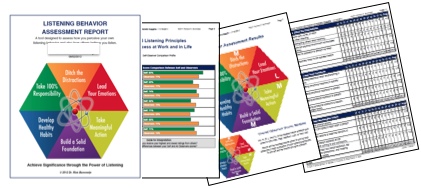 The Listening Perception Assessment is a web-based tool that is designed to assess how you perceive your own listening behaviors and also how others perceive how you listen.
The first section of your 17 page, individualized report presents information on your scores on each of the 6 LISTENING strategies.
Observers of your choosing will each rate your listening behaviors through an online series of statements.  The second section of the report presents the comparison between your scores and your observers.
The third section of your report contains open-ended feedback from your observers.
Contact Rick to determine the best way to integrate this tool into your listening development and for pricing details.
A message will be sent to you with a new temporary password.